At Georgetown Medical Clinic, our family practice physicians are attracted to the challenge of diagnosing and treating a wide variety of illnesses and medical conditions. As family medicine specialists, they find great personal satisfaction in taking care of families; the new babies, kids, adolescents, young adults, moms, dads and grandparents of our community. They are committed to helping their patients make the right decisions that produce healthy, enjoyable lives.
We also make sure that specialized medical skills, x-ray, laboratory, and other important clinical services are readily available to you and your family. Our services include:
Preventative medicine
Pediatric care
Gynecological care
Obstetrics
Sports medicine
Abscess incision & drainage
Chronic disease management
Contraception management
Immunizations
EKG (electrocardiography)
Hearing screening
Joint injections
Pregnancy testing
Pulse oximetry (blood oxygen testing)
Spirometry
Skin biopsy
Stiches
Urinalysis
Wart removal
Chiron Telemedicine Video Visits
Georgetown Medical Clinic is now offering Chiron Telemedicine Video Visit technology. Personalized face to face interactions with you and your doctor over secure video. Just join your appointment on your computer, iPhone or Android device. Video visits are convenient, take less time out of your day to be in the doctor's office, and gives you back more time in your day. No more traffic, parking or time away from busy schedules. Contact our office and request a video visit. Most insurances plans cover this, but this will be verified for every visit.
If you questions on which doctors and what type of visits could be done using the Telemedicine Video please contact our office.
Skip the waiting room!
See your doctor through secure video for appointments that don't require a physical exam.
Drs. Chuo, Spitler and Willingham now offer their patients the convenience of online appointments.
Ask us for more information about how you can utilize your iPhone, iPad, Android, webcam enabled desktop or laptop with a microphone for:
Routine follow-ups
Adjusting your medication
Minor urgent care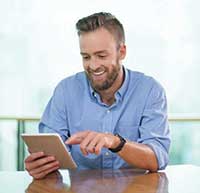 All that is required is that you download the app and set up your account. It takes less than 20 minutes.
Most insurance plans cover the video appointment and you simply request an online visit by letting your doctor's office know.
Have Questions?
Our office staff can assist you, or you can contact Chiron directly at 800-768-8131, or email support@chironhealth.com, or go online at help.chironhealth.com.